Commercial & Industrial Cleaning in Erie, PA
When you're in charge of managing an entire commercial building, there is a lot to handle. Cleaning may be the last thing on your mind, but it is one of the most important and essential jobs for your property. For reliable and thorough cleaning and janitorial tasks, turn to us. We are the very best in Erie, PA, and we offer a complete slate of professional office cleaning services. Just take a look at some of the services we offer. How can we help you and your commercial property?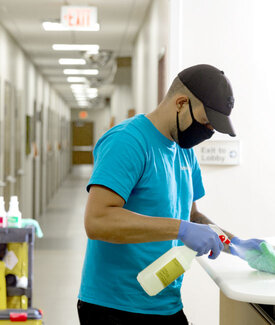 Janitorial Services
Commercial Cleaning
Floor Cleaning
Carpet Cleaning
Construction Clean Up
And More!
Why it is Beneficial to use a Commercial Cleaning Service
Hiring a professional cleaning service is always a preferable choice to doing the work yourself, especially if you operate a commercial building. Certain companies (like Service Master Contract Services) specialize in commercial cleaning and will offer you a number of benefits over a regular janitorial company. For example, we are highly experienced in commercial cleaning, and know the kinds of products and strategies to use to ensure that the property is rid of dirt grime and germs. By hiring externally, you also avoid having to train new personal a trade that a commercial cleaning company already has years of experience in.
Professional Commercial Cleaning & Office Cleaning
When it comes to choosing an Erie, PA cleaning company, you will not find anything better than Service Master. We have been providing professional commercial cleaning and office cleaning services to satisfied customers throughout Erie, PA and surrounding areas for more than three decades.
Service Master offers a full range of business cleaning services that include carpet shampooing, window cleaning, floor maintenance, office cleaning service, post construction cleaning, sanitation and more. Our diligent and hardworking cleaning professionals are supervised and inspected on a regular basis to ensure exceptional quality and attention to detail.
For more than 35 years, our team has been helping to disinfect and sanitize buildings while making them truly shine and sparkle. We will never impede your work or production while we handle the commercial cleaning responsibilities for your property. That's our guarantee!
Call us today at (814) 328-8571 to get started!
Floor Cleaning Experts Serving Erie, PA
Whether you need us to clean the floors of your office, school or apartment complex, or you need us to clean the carpets in your lobby, we can help. When we come to your site for carpet or floor cleaning, our team uses professional and trusted techniques to complete the task without disrupting your business.
Working with Commercial Clients from Erie & Surrounding Areas Since 1979